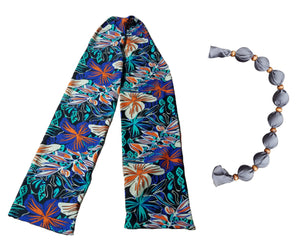 Cooling Scarf Vibrant Leaf - COOLING BALLS INCLUDED!
Nano-Ice Cooling Necklace
Regular price $65.00 $52.00 Sale
Feeling hot because your loved one has the heat too high? Maybe hot flashes or or night sweats? We have a solution that will keep you cool. Many of our customers use it for migraines, menopausal flashes, going through cancer treatment or alleviating symptoms of MS. 

The Nano-Ice Cooling Scarf is a personal cooling solution designed as an inexpensive accessory. Adapted from innovative technology, it consists of ice crystals that retain the cold for significant time, and keep you cool for hours. Keep in your freezer and wear it for hours of cooling relief. It delivers instant relief as it cools the blood flowing to your head, keeping you comfortable.

The cooling effect lasts more than 2 hours depending on conditions. Get one for yourself or gift it to a loved one, and see the smile that comes from feeling genuine relief from pain and heat.

This Cooling Necklace is heavier than jewelry as it is a utility item that keeps you cool.
Item Dimensions (Inches): Length 58' , Width 5.5
'
, Height 2.0
'
This Body Cooling Necklace is a must-have accessory for people who struggle with Heat Issues.